French Style Rolling Pin -- Long 20"
00016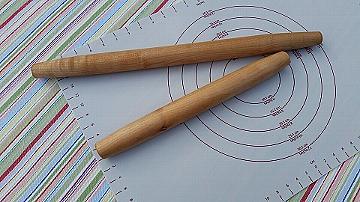 These long and elegant French Style Rolling Pins are a beautiful and practical addition to any kitchen. Hand-turned by Lady and the Carpenter each rolling pin is made out of solid maple, giving each rolling pin a unique grain pattern. Each pin is strong and resistant to abrasion.
French-style rolling pins are preferred by bakers for their solid one-piece construction and tapered design which gives a better feel for dough. Tapered pins pivot easily as you roll, making them ideal for flattening round pie crusts. Beloved by Julia Child who famously threw away her American-style handled rolling pin. A perfect gift for an aspiring chef.
Solid Maple
Hand-turned by Lady and the Carpenter
Great value with Durability and pleasing weight
Finished with Food Safe Mineral Oil
Length: 20 inches
Diameter at midpoint: 1.5 inches
Weight:10 ounces
4 inch tapered ends leave a generous 12 in. flat middle section.
Custom lengths or widths are available. Prices vary. Contact us with your specifications for details.
Care: Handwash only. Do not place in dishwasher or soak in water.
Variations: Each rolling pin has a unique grain pattern. Because this is a hand-turned product each rolling pin may vary in dimensions by 1/16 of an inch.