Clothesline Special
00004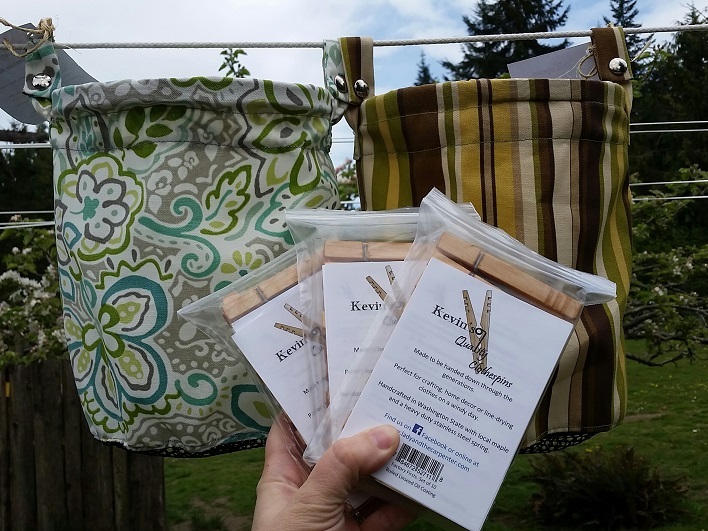 Clothesline Special
02/02/2019 Change Notice: the big black hooks are no longer available to us, we have switched to the same style of snap hook as the two other clothesline bags. If you know of a reiable source of big black hooks, we are interested. Clothesline Special
Save $10! This set includes a Clothesline Bag and 3 sets of our Factory First Kevin's Quality Clothespins. It is a perfect gift for anyone who wants to start a clothesline or for that veteran line dryer that would love quality items and a fresh look.
Lady and the Carpenter Clothesline Bags:
Finally, Clothesline Bag worth talking about!
Built to resist weathering, these bags will last a lifetime. Our Canvas and Mesh Clothesline Bags are marine-grade quality and are handcrafted for excellence.
Made in the US. Marine-grade, StudyHandcrafted Construction. High Quality UV Protected threads, Outdoor Fabric and Mesh. Heavy duty, repurposed carseat hooks can be attached or detached from the line. Length: From top ribbing to bottom 12". Diameter: Front to back:7" Side to Side 9". Generous pocket allows for plenty of storage (More than 150 clothespins).
Care Instructions: Bring indoors when not in use to maintain the life of the fabric. Clean by wiping down or hand washing with a mild soap solution. Simply rinse with clear water to prevent dirt from embedding itself into the fabric.
Our Kevin's Quality Clothespins
Reliable, heavy duty and US made clothespins. Outlast and outperform other pins on the market. Lifetime guarantee. Made with local maple and a heavy duty stainless steel spring. Longer, Wider and Easier to hold at 3.5" long and 7/16 wide. Linseed oil protects the clothespins from the weather.
Note: This set comes with one Bag and a total of 30 Factory First Clothespins with lineseed Oil.