Fermenting Foods Adventuring
and
Fermented Vegetables

Book Review

Fermenting… most people either love it, are curious, or are cautious skeptics.
When trying something new out of my normal food experience I am very cautious. I worry about two things; I don't want to waste ingredients and I don't want to taste something that grosses me out. So, Inspiration does not always come easy.  It took me years to be brave enough to canning on my own, but now I can more than 200 quarts of food a year.
When tasting something new well… I am even more cautious. When someone, even a friend, says "try this" I back away and shake my head. I may try it after I have asked about ingredients and have smelled it.  I am polite but in my head I am thinking "I don't think so crazy person, step back…"
When we started going to Mother Earth News shows as a vendor I was not familiar with fermenting at all. In fact the idea of letting something ferment on my counter just sounded weird. People kept asking if we sold vegetable tampers, so we did some research and developed a tamper. We asked fermenting expert Kirsten Shockey to give it a test run. She loved it!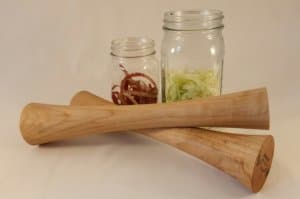 So, it made me start thinking, "Is this just a fad or is this a real thing? (I am not one for jumping on the fad bandwagon…). Maybe I should give this a serious look and try this out. After all, people have been fermenting since, well, the beginning."
The more I heard about fermenting and researched the health benefits I was intrigued. Fermenting is the reason why we have such amazing foods in our homes.   [Read more…]