Attending the Mother Earth News Fair…and a little silliness.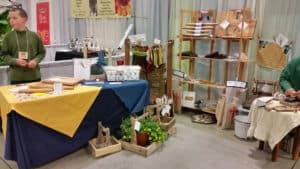 We had a great time this last weekend at the Mother Earth News Fair in Albany, Oregon. Last year we came with only our Kevin's Quality Clothespins and this year we had 9 more products to sell including our new Clothesline Bags.
We will also be attending the upcoming M.E.N. Fair in West Bend, Wisconsin on July 9th and 10th. If you are in the area we would LOVE to meet you.
These are by far my favorite fairs to attend. It really is more of a conference. People are attending over 150 workshops and learning anything from how to butcher a pig to how to use herbal remedies. Even the vendors are willing to share their expertise and knowledge. If you can't attend one of these great fairs you can go online (click above picture) and find some great links to speakers, bloggers and businesses that are at the fairs.  [Read more…]