It's been quite a while since I have had time to get on here and write. Life has been crazy busy. I feel like the summer is half gone and I just noticed. However,  I finally find myself with a day that I blog and garden. YA!
So, What have we been up to??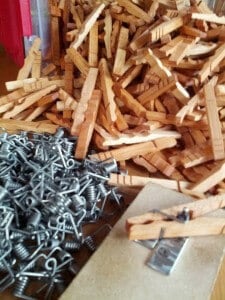 If you wonder why I talk about clothespins a lot… well, it is our home business and I work with them  a LOT. So, it is a big part of our lives here.  Each day includes them in some fashion.
People are super excited about our clothespins. I can't even count the amount of people that I have had conversations with in the last couple months that are thrilled. Then they say to me "You must think I am crazy for being so excited about clothespins." Well, we must be crazy together…
The picture above actually shows three steps of clothespin making. 1) the pallet of wood ready to plane 2) clothespins ready to oil 3) and LOTS of drying and oiled clothespins. The wood on the ground is for the new products we are working on.
Our website and our Amazon business is growing. So we have had to ramp up production. So in the midst of life I have had to figure out a new balance of priorities.
2) Garden!
Oh how lovely the garden grows! I LOVE growing food and seeing beautiful greenery grow all over. My favorite has to be my pole beans. I adore the big wall of green and then to peek inside and find food…. fabulous!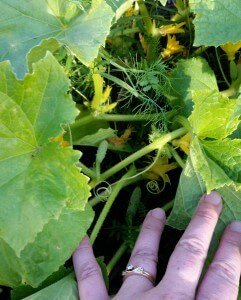 I learn something new every year. This years lessons so far:
First, Check your seed packets.
I bought sugar snap peas hoping for big tall vines only to get about 2 feet tall vines with hardly any peas and then they died!  Very disappointing. I repurchased seeds and am working on round two.
Second, Use wood (not PVC pipe) when spanning longer stretches of space for a trellis. 
It is what it is now (I am not taking time to change it) but, next year I need to use wood at the top. The pvc is drooping and not supporting very well. I will simply re-purpose the pvc piping into loops for covering growing lettuces this fall.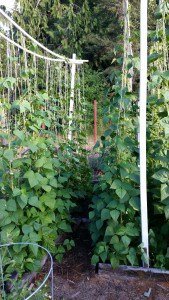 Here is the trellis made with the wood. Holding up very well.
Third, Parsley is amazing. It is just going nuts…. I think I need more recipes using parsley.
Fourth, Stake your tomatoes early.
Staking tomatoes helps prevent disease. I have waited too long. 🙁 We left for vacation in a rush and after returning I didn't get the staking done. Today is the day for doing what I can. Poor babies. I will do what I can.
3) Camping 
We went camping for a week in Idaho. For the last couple of years we have met with a bunch of family to go camping and boating. I didn't take a lot of pictures besides those in my memory. Loved watching my boy learn to ski and wake board.
But was it hot! Check out my tips on Hot Weather Tent Camping HERE.
There is no way I was going to ski but I did get in the tube once for a super granny ride. I DON'T like being in the water. Pretty ironic that I married into a family of fish. When I told my son that they are all fish he said "It's okay Mom that you are a tree and not a fish". Yep, tree it is…
Got to check out our clothespins in the wind. I had heard from customers that they hold up clothes even in high  winds, but it was the first time I was able to see it for myself.
Well, off I go to stake those tomatoes. 🙂
Happy Summer!
The Frabjus Lady