It has been rainy here and getting colder. My summer meal planning includes more outdoor cooking but when Fall comes we switch to soups about once a week. They are a yummy, simple meal. I will make cornbread or serve soup with some kind of bread
One of my favorite soups is Rustic Potato and Kale Soup. It is absolutely scrumptious. It is also easy and quick to make. I LOVE this soup. It never gets neglected as a leftover and in fact I double the recipe so I can have lots of leftovers. It's right up on the top of my list of comfort foods.
I would tell you where I got this recipe but my copy is a mess and any reference is long gone.
The first thing I like to do before cooking a meal is to gather and prep all of my ingredients. I do some of this prep earlier in the day if it is a meal that may take longer and I want the meal to go together quickly when it is time to cook it.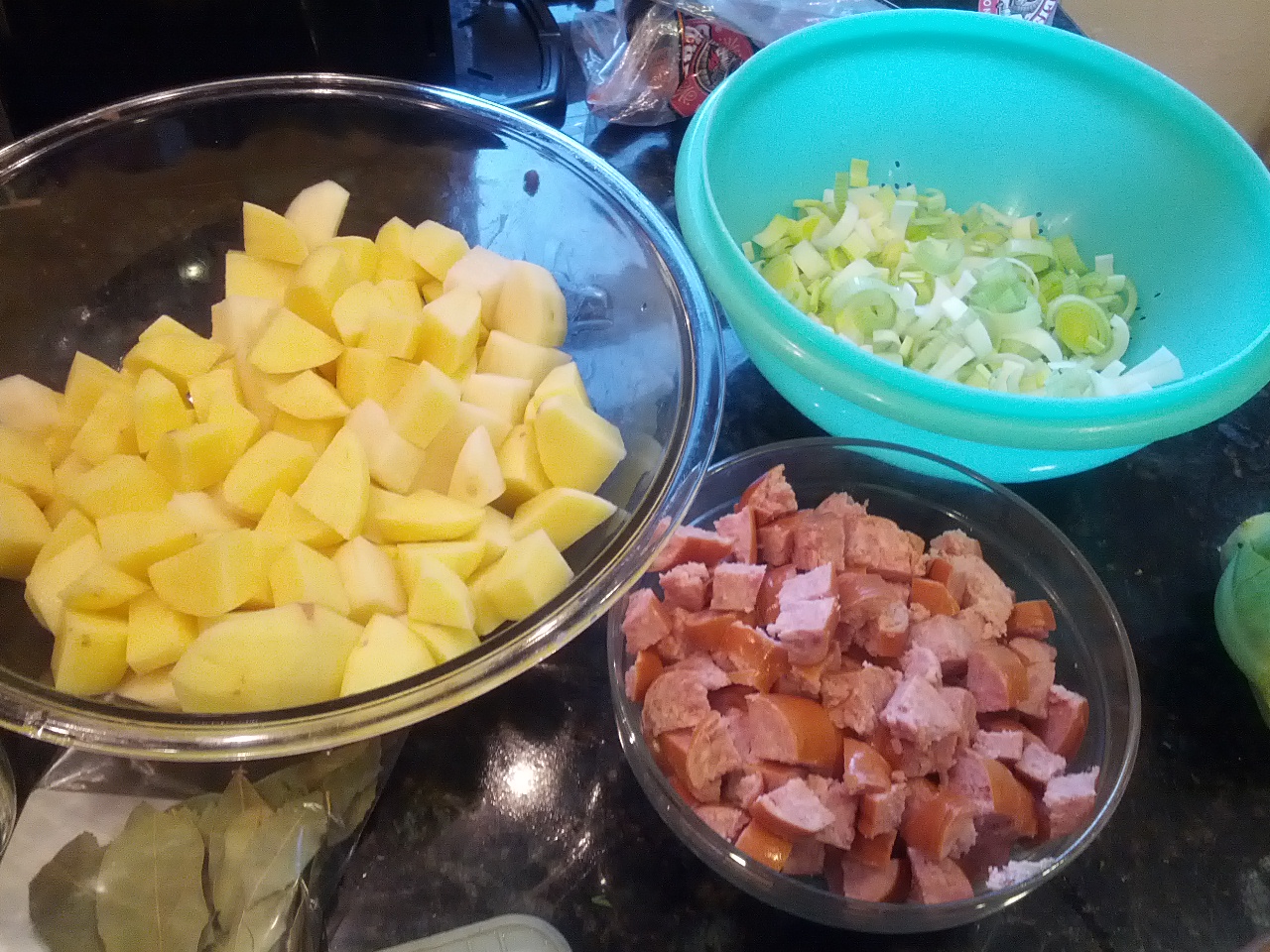 How to Prep Leeks
Leeks are wonderful! I love their mild beautiful flavor. However, they really need to be cleaned before using. They are really easy to prep.
First, cut the dark green leaf sections off your leeks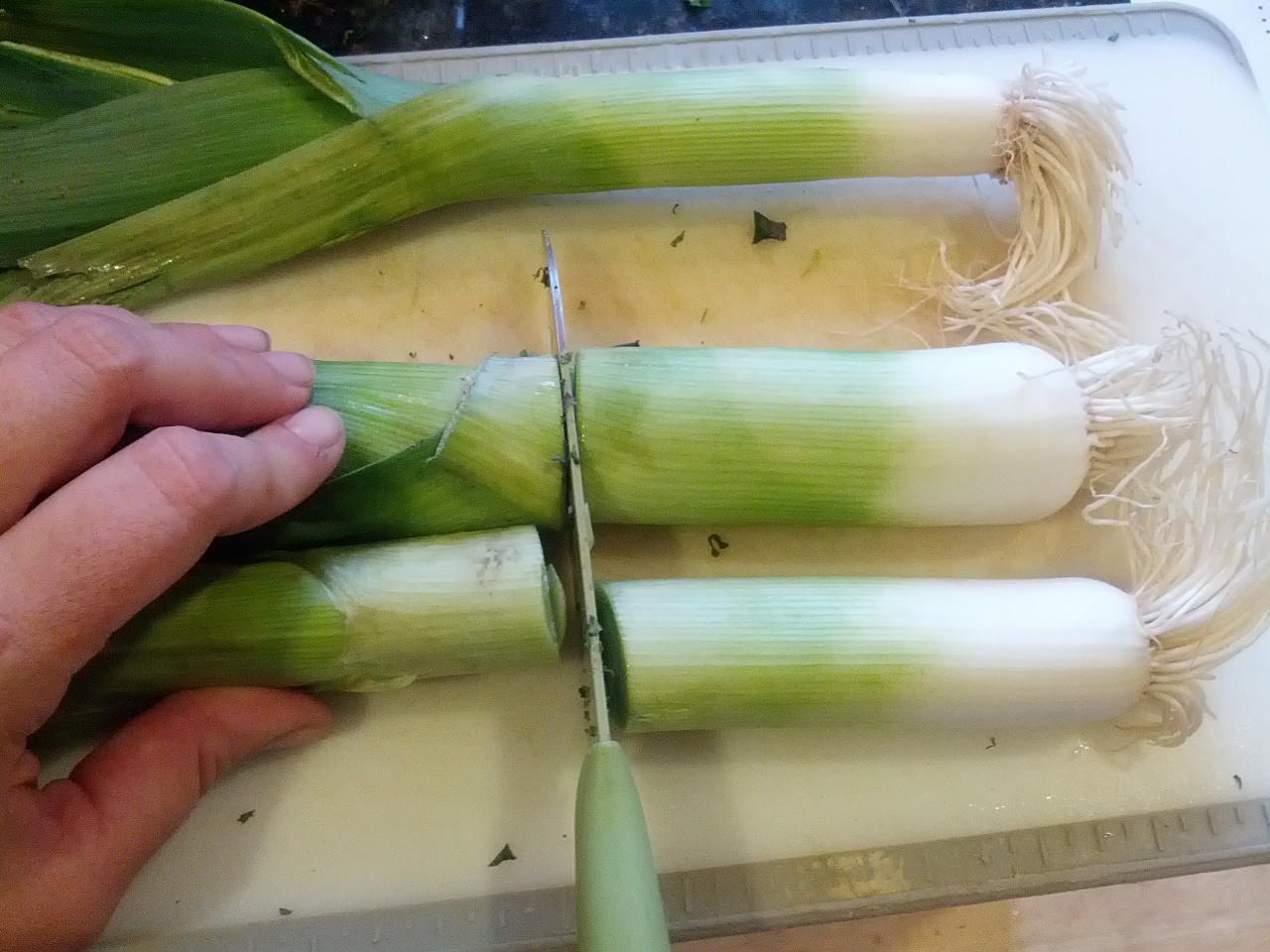 You can save the dark greens for making soup stock, add them to a stir-fry, or put them under chicken or fish when cooking to add flavor.
Cut off the root end. Slice the light colored parts in half long ways. Then slice them across the grain into thin strips. Put them in a large bowl filled with water.  Swish them around. They will float to the top and all of the sand on them will sink to the bottom.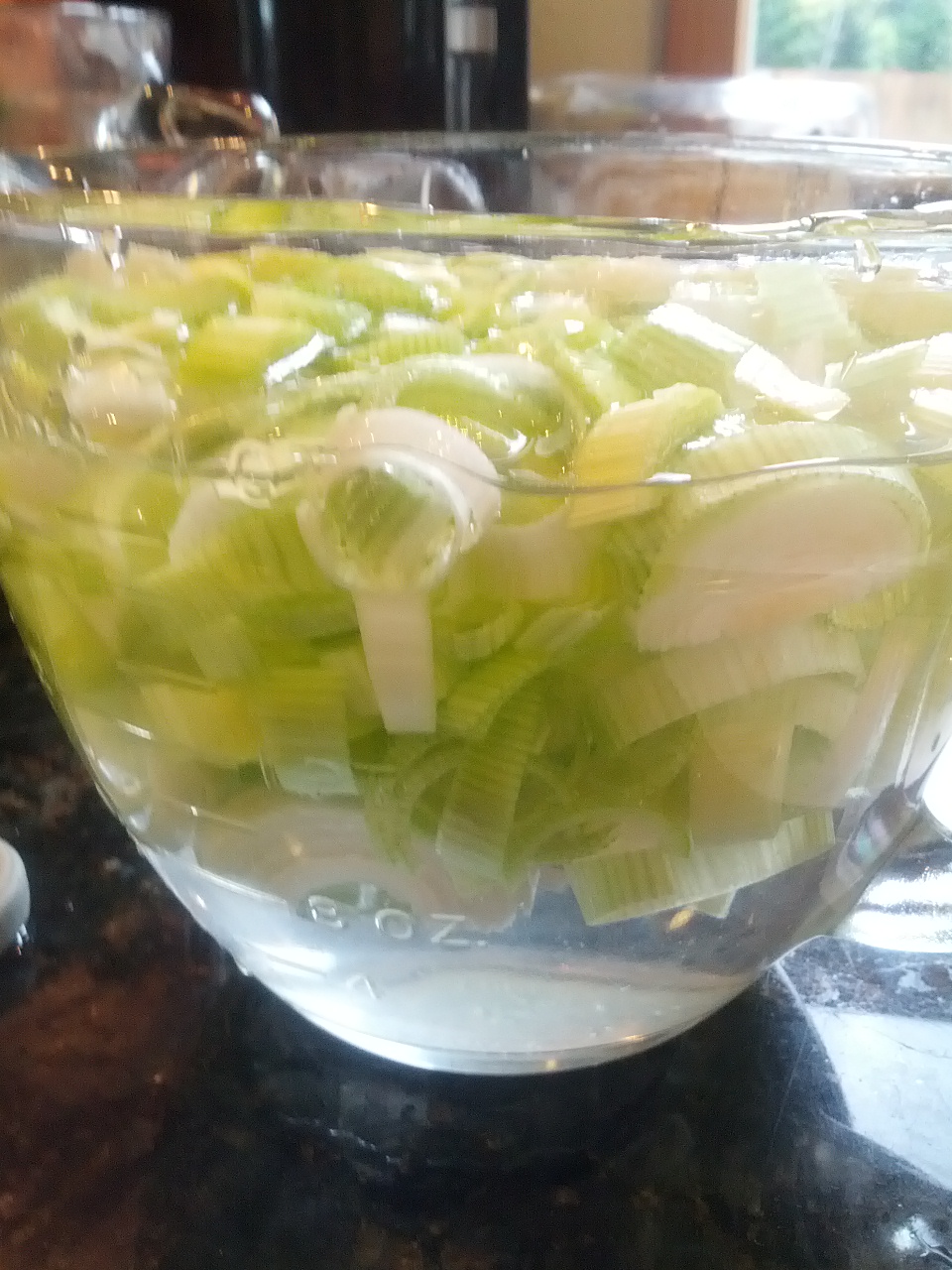 Scoop them out and let drain.
Now they are ready to use.
Prepping Kale
Kale is a wonderful green in this soup. It is one of my favorite parts.
Rinse your kale and separate the leaves from the hard center stem. The center stem is hard and more bitter than the rest of the leaf.
Roll up the leaves in bunches and cut into thin strips.
It will seem like a lot of green when added to the soup
but it will wilt and become smaller once the soup is done.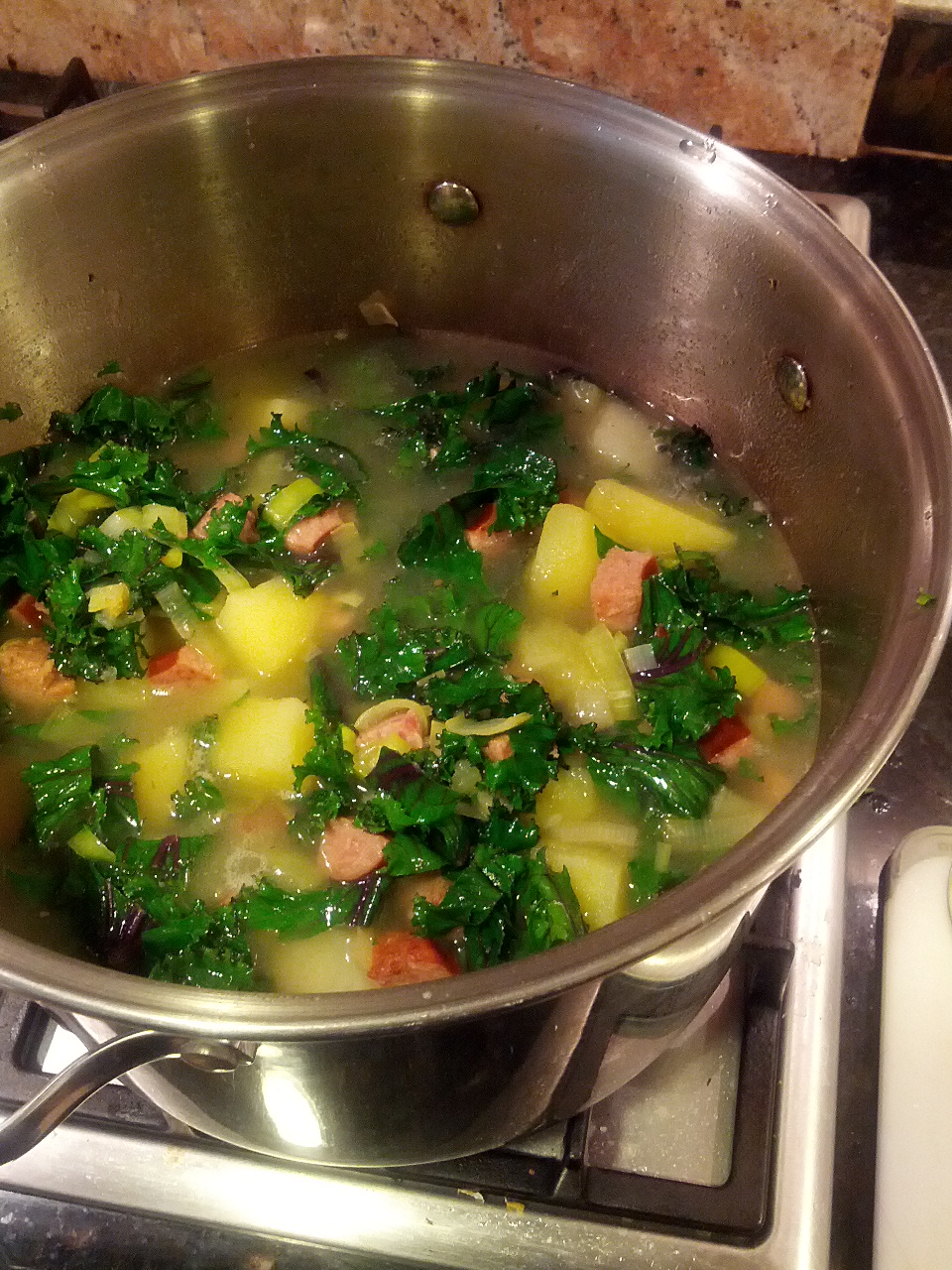 Now that I have shared a few tips…. Here is the recipe. Hope you try it out and love it as much as I do.
Come visit our Store to explore our unique and beautiful wood products.
Toys, cutting boards, tampers, aprons, heavy duty clothespins and more…


Rustic Potato and Kale Soup
A perfect soup for those chilly days. Even those meat lovers that aren't so sure about the "green stuff" will love it!
Ingredients
6

cups

low-sodium Chicken Broth

2

lbs

red potatoes

peeled and cut into 3/4 inch cubes

1

bay leaf

2

tbsp

unsalted butter

1

lb

Kielbasa Sausage

cut into 1/2 inch pieces

2

large

leeks

white and light green parts only, cut in half lengthwise, then sliced thin crosswise

4

packed cups

kale

stems removed and leaves cut crosswise into 1/4- inch strips

Ground Black Pepper
Instructions
Bring to a boil the broth, potatoes, and bay leaf in a large saucepan over medium-high heat. Reduce heat to medium-low and simmer until potatoes are tender, about 10 minutes. Discard bay leaf. Using potato masher, coarsely break up potatoes, leaving some large chunks.

Meanwhile, melt butter in Dutch oven over medium heat. Cook kielbasa, stirring frequently, until lightly browned in spots, about 4 minutes. Add leeks and cook until soft, 4 minutes.

Add potato mixture and kale to Dutch oven and simmer until kale is tender, about 5 minutes. Season with pepper and serve.
Recipe Notes
Note: The kielbasa is quite salty so adding salt is not necessary
Recipe from ladyandthecarpenter.com
Happy Cooking!
The Frabjus Lady